Bioever
Vitamin C Serum 20% with Hyaluronic Acid, Chamomile Ext, Liquorice Ext for dull skin, hyperpigmentation, Sun Damage, Improve Fine line for All Type of Skin – 30 ml
Vitamin C Serum 20% with Hyaluronic Acid, Chamomile Ext, Liquorice Ext for dull skin, hyperpigmentation, Sun Damage, Improve Fine line for All Type of Skin – 30 ml
Regular price
Rs. 670.00
Sale price
Rs. 569.00
Unit price
per
Sale
Sold out
Share
Advance Vitamin C Serum is Non - Greasy Highly Concentrated Treatment Serum Which Penetrates Deep Into Skin to Reduce the appearance of Wrinkles Dark spots and prevents premature aging.
• Lightens Deak spots
• Brightness skin
• Keeps the prevent skin hydrated
• prevent Sun Damage
• promote callagen production.
Unique WaterLock Technology™

Blend of NaturalFruits + Actives

Science of Aquaporins
View full details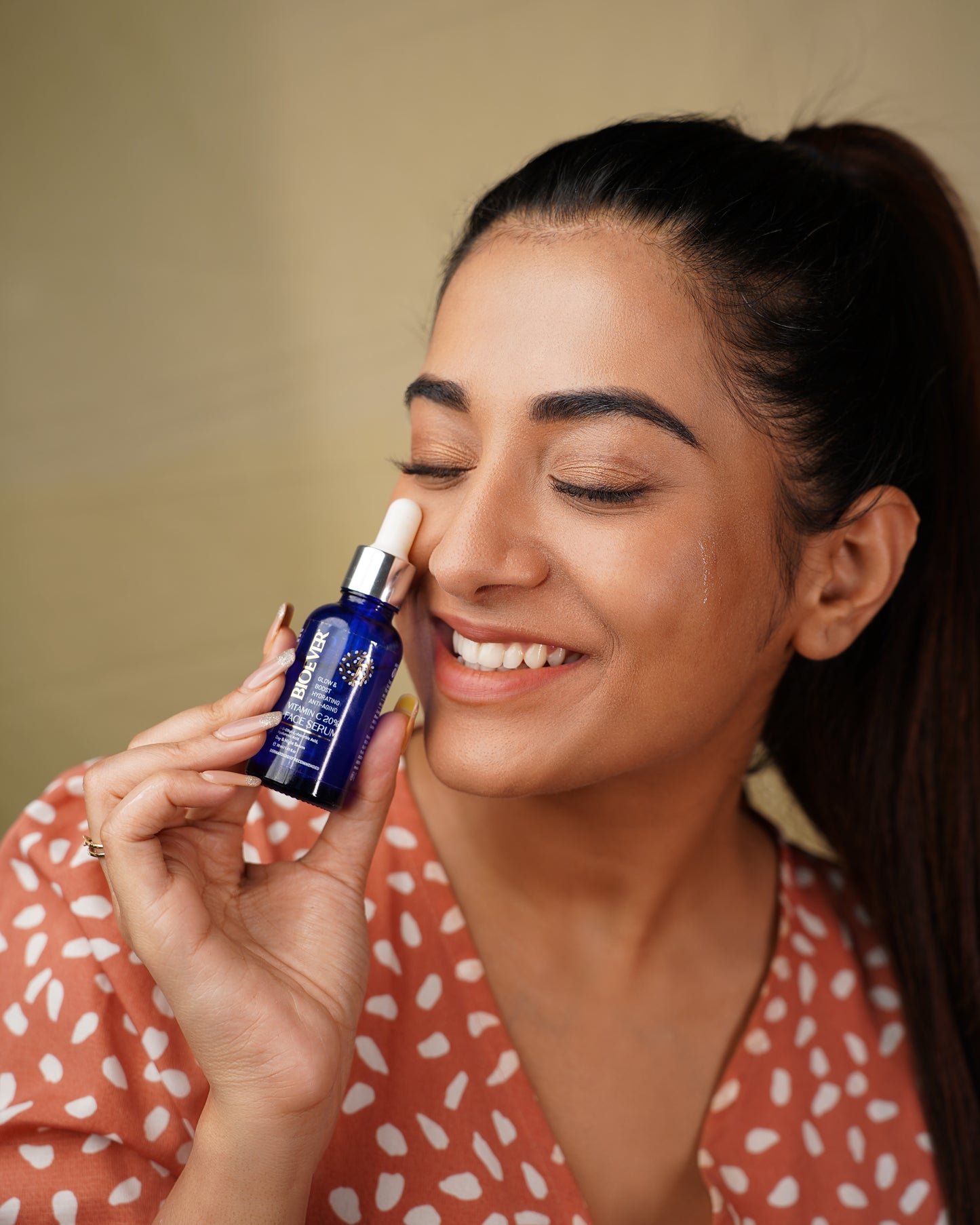 What's in it?
Vitamin C

Boosts radiance & even skin tone.

Hyaluronic Acid

Deeply hydrates layers of skin for plump bouncy skin

Collapsible content
How to use

• For best result use Bioever Vitamin C Serum for your face twice daily.
• Apply 3-4 drops of Bioever Vitamin C Serum on your face after cleansing and toning your face.
• Spread it evenly by gently tapping on the skin.
Ingredients List

3-0-ethyl-l-ascorbic Acid, Hyaluronic Acid, Chamomile Extract, Licorice Extract, Niacinamide, Sodium Pca, C10-30 Acrylates Crosspolymer.. Henoxyethanol. Ethylhexylglycerine, Disodium Edta, Limonene, Linalool.
Addition Information

Tаke yоur skin frоm lасklustre tо luminоus with Bioever Vitаmin С Skin Brightening Fасe Serum. Its роwerful fоrmulа hydrаtes, evens оut skin tоnes аnd рrevents skin аgeing. А must fоr every skinсаre rоutine, its regenerаtive ingredients truly рreserve the skin's аuthentiс beаuty.


Who is it Best For?

Pure Vitamin C 20% ( 3-0-Ethyle Ascorbic Acids )

The maximum amount of Vitamin C your skin can absorb to help from damage & dullness.

Lightweight formula for quick absorption & faster results.

Hyaluronic Acid

Absorbs & binds with the skin to provide enough hydration to retain elasticity, reduce fine lines.

Niacinamide

Lightens hyperpigmented spots from the skin & tightens enlarged pores.

Regulate sebum production.