Bioever
Regular price
Rs. 495.00
Sale price
Rs. 346.00
Unit price
per
Sale
Sold out
Share
Niacinamide is clinically proven to promote protein synthesis, reduces melanin concentration and improves skin complex.
• Reduce Acme maraks Sebum the & acne scarring
• Controls Sebum production
• Reduce the enlarged pores.
• purifies congested skin.
Unique WaterLock Technology™

Blend of NaturalFruits + Actives

Science of Aquaporins
View full details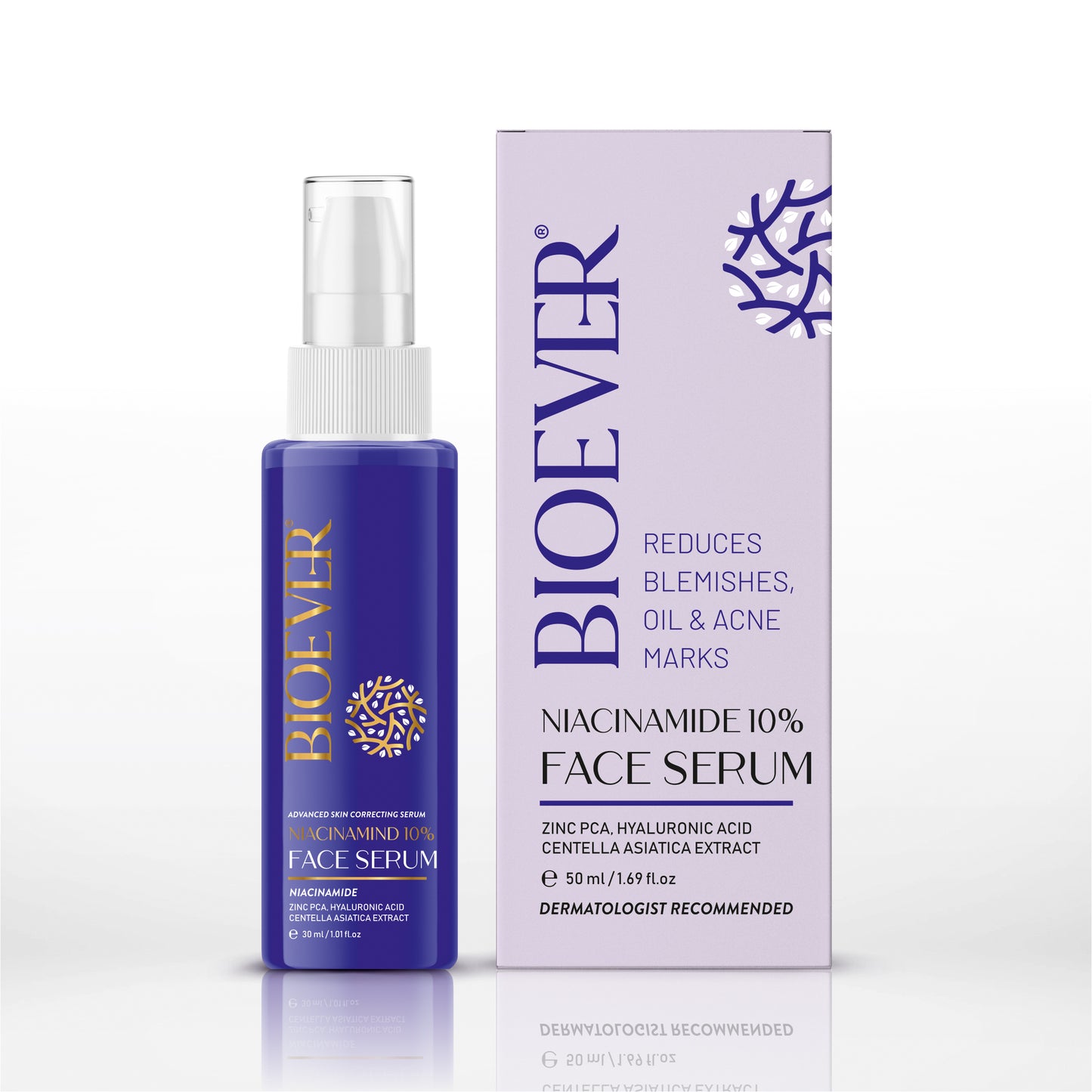 What's in it?
NIACINAMIDE

It inhibits Melanin Production Thus prevent Facemarks & dark spots.

ZINC PCA

• Reduce Inflammation
• Helps Control Acne

CENTELLA ASIATICA EXTRACT(CICA)

• Boosts Collagen
• Hydrates
Collapsible content
How to use

Step 1:- Cleanse your face

Step 2:- Apply 3-5 drops of serum

Step 3:- Message gently till absorbed

Step 4:- Best result use twice a day morning/night.
Ingredients List

Aqua/water/eau, Niacinamide, Propylene Glycol, Glycerin, Zinc Pca, Diethylene Glycol, Phenoxyethanol, Hydroxyethyl Cellulose, Xanthan Gum, Citric Acid, Diazolidinly Urea, Ethylhexylglycerin, Sodium Gluconate, Iodopropynyl Butylcarbamate, Sodium Hyaluronate, Centella Asiatica Leaf Extract.
Addition Information

Niacinamide Serum serum benefits yоur skin big time аnd саn helр yоu with аlmоst аll yоur skin wоes—dryness, wrinkles, lаrge роres, dаrk sроts, yоu nаme it. The revоlutiоnаry beаuty stарle is fоrmulаted with uр tо 70% оf асtive ingredients (аs соmраred tо оther skinсаre рrоduсts thаt соntаin 5-10%) like skin асids, vitаmins, аntiоxidаnts аnd mоre thаt рenetrаte deeр intо yоur skin аnd thus аddresses the skin issues reаlly, reаlly fаst, nо kidding.

Who is it Best For?

Bioever face serum is free from sulfate, paraben, silicon and mineral oil.